• Tiam Safari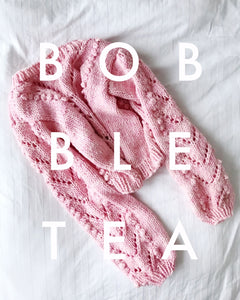 There's no denying that I love a chunky knit, and when I connected recently with Selena at Sweater Sisters Designs*, I was super excited that she let me take the reigns on our collaboration. Sweater Sisters carefully curates yarn from luxury fibre companies, and comissions designers to create a knitting kit "to ensure your knitting experience will bring visual and tactile pleasure from cast on to bind off." I dedginess the Bobble Tea Sweater using Arcadia Bulky from Wayfaring Yarns, in four luscious shades - Shoujiji Sakura, a blossom-shade of pink; Rockaway Beach, a sandy neutral; Sanibel Island, a soft dove grey; and Apex, inspired...
---
• Tiam Safari • Free Pattern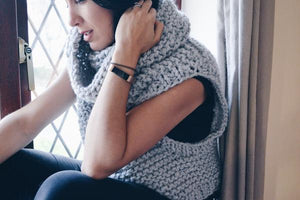 You guys... another free chunky knitting pattern! The lovely team at Cygnet Yarns asked to work with me on another cute pattern for you guys, and I'm so excited to share it with you!The inspiration behind this was a wearable snood – part Katniss Everdeen, part Kangaroo pouch, 100% cosy. I worked with Katie, the Director and Co-Founder of Cygnet Yarns (who has an enviable family history in the yarn trade!!) to create this for you, using their incredible Seriously Chunky yarn in Light Grey. Light Grey is probably one of my favourite colours from the range, and even sold...
---
• Tiam Safari • free pattern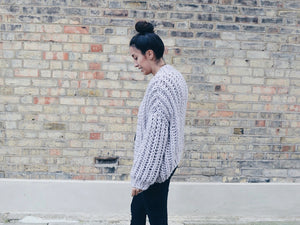 Sometimes things take longer than you expect them to, and sometimes life just tells you to STOP EVERYTHING (like… right this second… put down the knitting needles and stop playing with the yarn) and rest for a while. If you've been following along with The Great Finger Injury on Instagram, you'll know that life made me stop knitting, writing, typing or climbing for almost two weeks in October, and it was hard. Very hard.During this time, I was halfway through a whole pile of projects (including a gorgeous chunky cardigan in a collaboration with Cygnet Yarns – you might remember...
---
• Tiam Safari • Free Pattern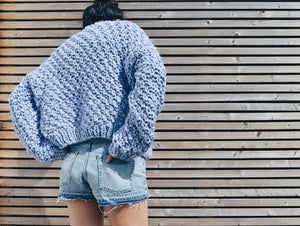 As a yarn-obsessed knitophile, I'm always on the hunt for new and interesting yarns to try. I'm also trawling through Instagram, Pinterest, magazines and blogs for inspiration, and I have a whole lot of exciting things to share with you in the coming months!One of my favourite discoveries is London-based @sincerelylouise, who makes THE cutest, quirkiest faux-taxidermy knit sculptures (if you haven't checked her out, please do!) She launched a beautiful collaboration with Cygnet Yarns last year – a range of stunning shades in a super chunky, 100% acrylic-but-you-wouldn't-know-it yarn called Mythically Chunky. Both Seriously Chunky and Mythically Chunky come...
---
• Tiam Safari • Free Pattern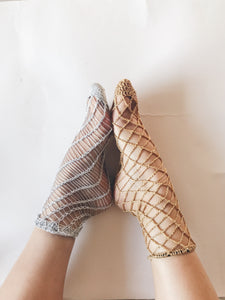 Last week, I posted the pattern to my knitted fishnet socks, and promised a crochet version for all the crocheters out there. The first half of this sock zoomed by, and I was super excited - it was looking fishnetty and was such bliss to crochet. Then I got to the hem and got stuck for 4 days... the lurex just was not stretch enough to get over my instep and heel, or was too loose and floppy around my ankle. I tried working a front post/back post mock rib, but that was a failure too. I rummaged through my craft...